產品
Cotton-Jute travel wallet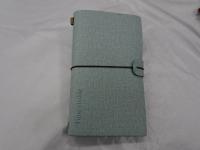 Call
Travel wallet ( pocket size notebook ) with the dimension of 20 X 11.80 X 2.0 CM of thickness.
Elastic closured. With 2 sheets of business card holder that carries 12 business cards + one zipper pouch + one plastic pouch + two notebooks with 40 sheets of each one.
Convenient to carry or put in purse.