產品
Colored sticky notepad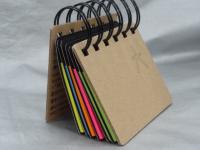 Call
Booklet with various size of sticky notepad.
Front and back covers are with thick kraft board. Inside with 6 cardboard sheets which contain 3 pages of stripe sticky notepad, 2 pages of 3.8 CM width notepad on each page and 7.5 CM of notepad on the last page. All the notepad are with different colors.
4 colors printing on the back side of each cardboard.