Pro-Advance International Co., Ltd.

產品
PA-1159-S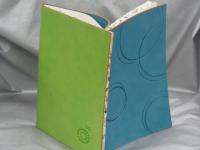 Call
S-Shaped Notebook

.

Be a different Notebook.
Bi-covered notebook that makes the notebook more diversified. It features:
1>. Can be designed to be one side is notebook, the other side is calendar or address book or business card holder + zipper pouch as PA-1158-S. Or, just both sides notebook.
2>. The PU material both in color and texture can be made differently as PA-1157-S, PA-1156-S, PA-1159-S. This will allow the notebook looks a lot more vibrant.
3>. The color of the gild can be 2 colors. It means, one side of the notebook can gild one color and the other side can gild another color. These gilt colors can be appointed by customer.