產品
A5 notebook with multilayers of patched PU + metal tab closure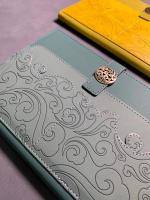 Call
A5 notebook with  multilayers of patched PU + mebossment + metal tab closure.

  Material is colored changing PU with different colors of combination.
Inside  paper is 96 sheets of 80 gsm lined paper or blank  or  section papers.
 Cover is available for embossment. Inside paper can print customer's logo or company's name.

We have at least more than thousand of colored changing PU in stock . So, customer could select color combination without considering the MOQ of the PU. For example, 1,000 PCS for 2 colors or 2,000 PCS for 4 colors. Low purchasing threshold of PU allows customers to have more colored combinations.

Unbeatable workmanship upgrade the value of the notebook. Notebook can support a brand that no other products can.