產品
6-hole notebook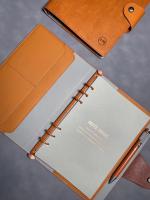 Call
1>. A5 size with 6-holes colored binder.
2>. Dimension of cover is 17.50 X 23.0 CM. Dimension of refill is 14.20 X 20.70 CM.
3>. The color of 6-hole binder is by plating not by spray paint. So, the color look more vivid as well as more durable. Color  looks dull and  easy to fade away if  by spray.

4>. Color of the PU can be matched with the binder.
5>. The internal design/layout and the tab can be customized by the customer.

6>. We have at least more than thousands of colored changing PU in stock . So, customer could select color      combination without considering the MOQ of the PU. For example, 1,000 PCS for 2 colors or 2,000 PCS for 4 colors. Low purchasing threshold of the material allows customers more flexibly design the color combination  and diversify the market.