產品
A5 notebook + magnetic closured cover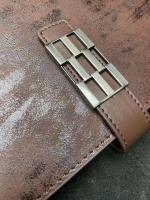 Call
1>. A5 notebook with  metal embellished tab. Magnetic closure.
2>. Size can be customized.
>. Material is colored changing PU with different colors of combination.
4>. Inside  paper is 96 sheets of 80 gsm lined paper or blank  or  section papers.
5>. Cover is available for embossment. Inside paper can print customer's logo or company name.
6>.We have at least more than thousand of colored changing PU in stock . So, customer could select color combination without considering the MOQ of the PU. For example, 1,000 PCS for 2 colors or 2,000 PCS for 4 colors. Low purchasing threshold of PU allows customers to have more colored combinations.
5>. Color matters. Because good color combination accomplished half of the design.